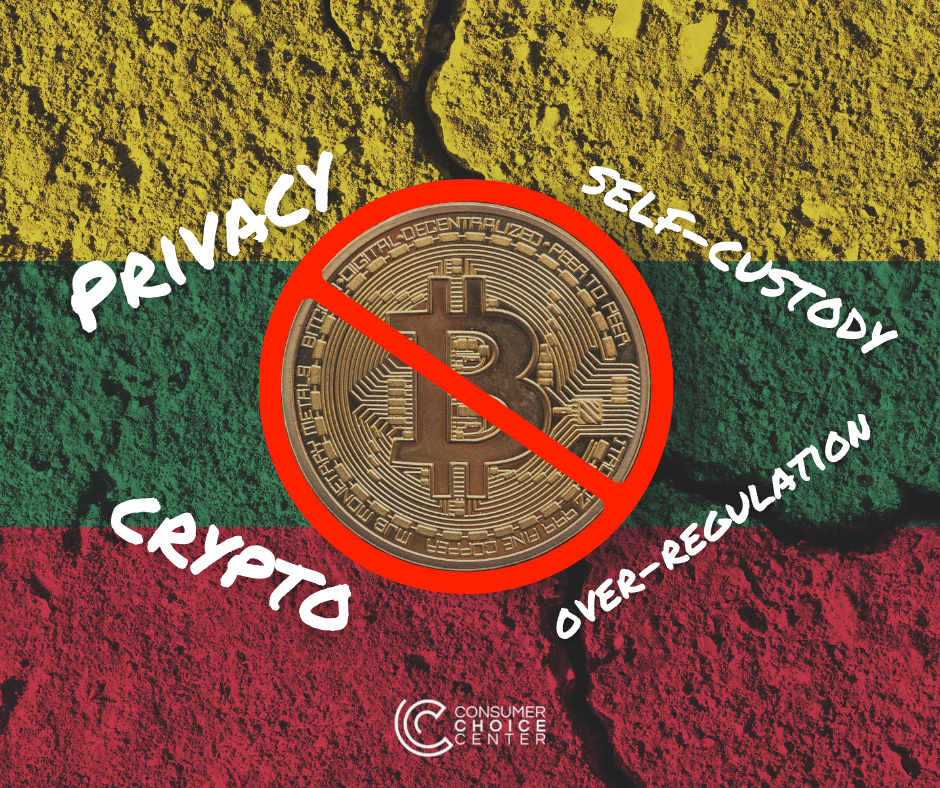 Lithuania's Finance Ministry has announced plans that would essentially outlaw non-custodial crypto wallets – the practice of self-custodying of Bitcoin and cryptocurrencies on a wallet an individual controls – and impose stricter regulations on crypto exchanges in an attempt to combat money-laundering, terrorist financing, and sanctions evasion.
The prepared draft law heads to the Seimas and, if passed, would impose stricter regulations on individuals as well as cryptocurrency exchanges in the country.
This bill mirrors a proposed European Commission regulation that has passed various EU Parliament committees but has yet to adopt continent-wide, aiming to restrict cryptocurrency services and institutions.
"Banning non-custodial wallets, together with introducing strict and complicated measures for cryptocurrency exchanges will introduce unfavorable conditions for the growing industry and will cause a number of businesses to be forced and move their operations abroad – not to mention the harm this does to consumers who want to safely and securely enjoy crypto services," said Aleksandar Kokotovic, crypto fellow at the Consumer Choice Center, a consumer advocacy group.
"A measure that aims to prevent money laundering will have very little effect in doing so but will definitely hurt the privacy of Lithuanian citizens and force them to use services based outside of the country, leaving them less secure than they are at the moment," said Kokotovic.
"Non-custodial Bitcoin and cryptocurrency wallets are basically just code, many of which are open source and can be replicated and forked indefinitely. A government trying to ban code is not only ridiculous but will do absolutely nothing to supposedly stop bad actors. All it will do, in the end, is create a precedent for the government to crack down on its own citizens for using cryptocurrencies," said Yaël Ossowski, deputy director of the Consumer Choice Center.
"Banning software in 2022 is not only a bad idea that will be impossible to enforce, but will have a wide array of possible negative consequences, including the privacy of financial and crypto customers.
"We have seen consumers voting with their feet in the past and sometimes being forced to choose service providers in different countries to avoid similar measures. We are still hoping that Seimas will understand the worries around approving such legislation and that they will preserve privacy and safeguard innovation rather than create unfavorable conditions for consumers and businesses," said Yaël Ossowski, deputy director of the Consumer Choice Center.
The Consumer Choice Center strongly urges Seimas members to vote against this legislation and to preserve the privacy of Lithuanian citizens as well as continue creating a prosperous and friendly business environment for consumers and industry alike.
"We offer the following bedrock principles on smart crypto regulation for lawmakers, hoping to promote sound policies that will encourage innovation, increase economic inclusion across all income groups, all the while protecting consumers from harm," said Ossowski.
PRINCIPLES
Prevent Fraud
Technological Neutrality
Reasonable Taxation
Legal Certainty & Transparency
"The temptation to regulate cryptocurrencies and the blockchain economy based on financial considerations alone, rather than the innovative potential, is an active threat for entrepreneurs and consumers in the crypto space," said Aleksandar Kokotović, CCC's crypto fellow and co-author of the primer.
"Penalizing first-movers in crypto innovation or subjecting them to outdated laws will only serve to limit the unparalleled economic growth currently provided by the sector, or risk pushing all investment and entrepreneurship to less reliable and lawful jurisdictions," added Kokotović.